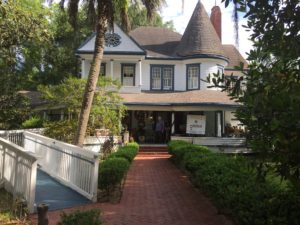 If you are looking for a haunted getaway, look no further than the quiet panhandle of Monticello, Fla. The history traces back as far as the early nineteenth century. Identifiably nine known haunts locations. To start with there is "a hanging tree" just outside of the courthouse. The tree is an estimated 250 years old and was a meeting place for confederate soldiers to be inspected and assigned. Favorite haunt is the Perkins Opera house located right in the center of town. Plenty of phantoms here since its inception in 1890. Next, we got Old Jefferson County Jail, with the sheriff living on the ground floor and basement and inmates on top floor. Ironically female inmates lived in a separate small building. Ghost seekers claim to hear the metallic clank of doors and strange moaning.
Not good to be incarcerated at Jefferson Correctional Institution. You may be a awakened by a ghostly inmate tapping your shoulder. An old guard on horseback still patrols the grounds.
The best part is there are five haunted bed and breakfast with most of the haunts coming from the original owners.
Palmer house was the home of Dr. Palmer the local mortician who supposedly would experiment on the bodies before they were buried. Wirick-Simons is the oldest home dating back to 1831. Two woman haunt; the lady in pink and a lady in yellow. The Avera Clarke House is said to be haunted by Thomas Clarke, lawyer, judge and civil war vet. The lady of the House Ms. Sarah Denham occupies the home the Denham B & B. Loves to sit in her favorite rocking chair. Last but not least is the Daffodale House where Martha spent her week-end.
Martha didn't know who was more entertaining the ghost or her charming host Scott and Cathy Ebberbach. Kathy is the chef. Be sure to make reservations for her fabulous steak dinner. Scott is the consummate entertainer. Their home is a museum of oddities and the unusual, incredible jewelry pieces from artist local and nationally, antiques from dolls to furniture to just about everything for a collector. Most items are for sale. It is a treasure trove due to Scott's keen eye as a "picker". Everyday is a new story from his wonderful finds. To those that want a good ghost story, you can book a private tour with Scott. As Martha says "Quite the storyteller and incredibly entertaining".
Martha highly suggest a weekend getaway to this charming historic town a stone throw away from Tallahassee.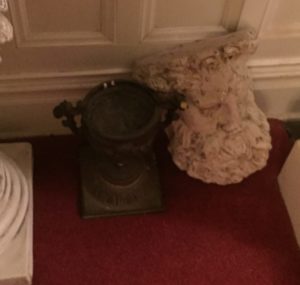 When you find an urn with the actual ashes inside, changes are we have welcomed a spirit visitor.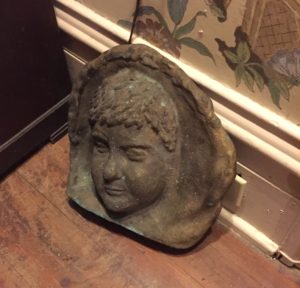 Iron cast death mask of a child. Martha is guessing approximately nine years of age.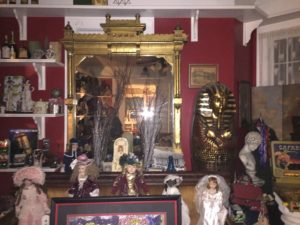 Did we mention interesting picks and for sale?!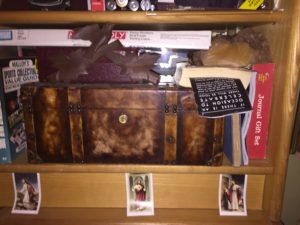 Sometimes you have got to sell your treasures to pay the tax man...even Burt Reynolds!