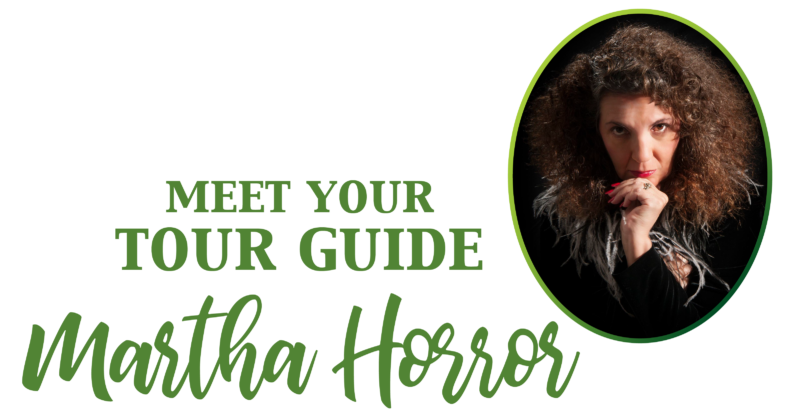 Do you love history, ghosts, and the stories that keep them alive?
Join us for Marco Island's only mystery historical tour. A 2-hour mystery tour that will not soon be forgotten!!!
Take you on a tour with me, Martha Horror, as your personal guide.
Stops on Marco Island include a cemetery, haunted inn and a 340-year old Indian burial site.
I look forward to meeting you and serving as your personal mystery tour guide for Marco Mystery and History Tours!
2020-2021 season tours will be by RESERVATION ONLY!
Interested parties should TEXT the tour line at 239-537-8353 and ask for Gina
Tours run on FRIDAY EVENINGS (however we do make a few exceptions)
List the date(s) you would like to tour, how many are in your party, as well as your first and last name
Gina will call you back to confirm the availability
PLEASE NOTE: The date will not be "held" (first come/first serve)
After confirmation, you will "book" your reservation IMMEDIATELY through our ticket portal called "Book Your Tour"
A confirmation will be e-mailed, followed by instructions from the tour
*We recommend booking your tour 2-3 weeks out • NO REFUNDS unless cancelled by tour operator*
up to 7 people - Tour in SUV
up to 26 people - Mini Bus
up to 50 people - Charter Bus
Enjoy a wide variety of dinner options at
Call for delicious fine dining prior to your tour at
239-389-0891
Looking for something to do with your wedding, anniversary, retirement party and special guests?
Why not jump on the ghost tour for some "horribly" entertaining fun?
We can accommodate groups from 2-50 guests!
Marco Mystery and History Tours will cater to your unique occasion.
Schedule your tour with Martha Horror by
TEXTING 239-537-8353
Tours are scheduled based on availability. Book early to ensure your date.
$150/hr   OR   $200/hr after midnight
(plus sales taxes)

$150/hr   OR   $200/hr after midnight
(plus sales taxes)

TEXT  Gina Sisbarro (owner/operator)
at 239-537-8353
for more information
Our Season Runs from October through May
Arrive 30 Minutes Early to Enjoy Your Complementary Cocktail
OR Make A Dinner Reservation with Bistro Soleil to Dine Before Your Tour!