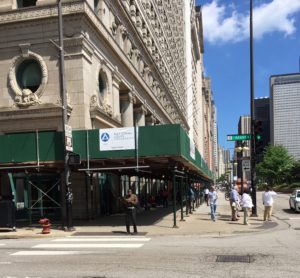 Amazing enough the start of Route 66 begins in the Chicago on the corner of E. Michigan Ave and E Adams St. So can you get your "kicks from Route 66"? Well if kicks means CREEPY than you will get a big kick! Route 66 has in total 2,451 miles that runs across the United States. Let's talk about a few locations along the stretch. Just like the Bates Motel in the film "Psycho" you don't want to check in at the Hotel Monte Vista in Flagstaff, Arizona. There are 10 known ghost that haunt this hotel. As a matter of fact, they advertise a ghost of a good time and encourage you to speak with staff and explore haunted areas of the hotel. Why not book room 306; in the early 1940's two prostitutes were hired and thrown out of the window either during or after services. You have the feeling of being watched and if you are a male guest you may experience hands over placed over your mouth and throat enabling you to breath. You can encounter the friendly Bellboy dressed in an old fashion red coat with brass buttons still taking care of his guest. You will get a knock on the door with a muffled announcement of "room service". The only thing you are served is his presence! Even John Wayne experienced the ghostly bell boy in front of room 210. Mr. Wayne said the boy was friendly enough and was not disturbed by his presence, yet we are not John Wayne stature. His size may have scared our bellboy!!
In Missouri there is a stretch of the road called Lawler Ford Road; however the locals call it Zombie Road. Reports include the ghost of a man who was hit by a train in 1970, a old woman who screams at people from a house at the end of the road. Patrons must have made way to many U-turns in her driveway. Della Hamilton McCollough who was also hit by a railroad car in 1876. She haunts as a phantom with a bluish-white glow.
Here is one for the record book, there is an off-shoot of Route 66 called Route 666. Not a heavenly road to travel on late at night. There is a good possibility you will see a flaming truck come up from behind you. If this happens, we advise you pull over to the side of the road (rather quickly) and let the vehicle pass! As a matter of fact, one traveler pulled off the
road and literally ran for his life about 20 feet from his car to avoid getting hit all together. Smart man!
If you need to stop and visit a tourist attraction, why not stop at one of the primary attractions off of Route 66. This is the Meramec Cavers near Stanton, Missouri. The cavern boast limestone deposits over a million years old. Pre Columbian Native American Artifacts can be found in the caverns, so it is no surprise that a native American woman can be seen standing in a distant pool of water. The caverns also boast a mysterious man in black who is believed to be Jessie James himself!
Hint, hint...never skimp on your loved ones burial. Honor your dead because in a cemetery named Oak Hill, in Kansas (Route 66 has a thirteen mile stretch through Kanas, a widower did not bury his wife in glory and opted on the cheapest funeral he could get away with. A cheap coffin, no funeral service and a headstone that continually cracked. The cheap widower out of guilt replaced the headstone numerous time until he decided to move away from the town to rid himself of the responsibility. It is said his wife got her revenge by continually cracking her headstone in order to make him pay! She is still seen roaming through the cemetery, most likely admiring all the beautiful headstone and damaging hers.
Those are just a few stories, want to read more? There are several books published Haunted Route 66: Ghost of American's Legendary Highway or Route 66 Ghost Towns and Roadside Relics.
Cheers and Travel Safely,
Martha