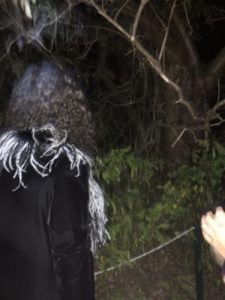 Seeing is believing!
A big thank you to our last set of ghost riders on 12/7/18.  Martha had two lovey couples who had several encounters during the history and mystery trip.  The photo is from one of our stops called "The Otter Mound".  We have a lovely gentleman whose ghost still to this day resides on his property.  He thoroughly enjoys visitors and doesn't mind our guest visits to take a look at his beautiful property and shell wall.   If you haven't figured out our ghost it is  it is Mr. Otter himself.  Martha our tour guide identified that Ernest was standing right in back of her.  Take a look at the picture.  Rest assure it is not her grey hair (that's in the front!).  Look closely, it is a mist hovering over her head and slightly to the left.
In their photo. Martha just made the comment that he is right by her hand and her right arm was freezing.  See the mist right on top of her hand!!  This is not trick photography, these photos were submitted and neither of our guest admitted to working in "special effects"!! 
IN addition to this experience one of our gentleman made direct contact with our Sea Captain at Cazambas Cemetery.  Martha was told you can smell his cigar smoke.  The connection was made and shyly admitted prior to boarding the van.  I believe the comment made by our guest was "I'm freaked out right now."
Later at The Old Marco Inn orbs the size of beach balls came right towards them as seen through their camera lenses.
Still don't believe - come on out and see for yourself!!  As Martha says "We don't guarantee encounters, however in five years we haven't missed yet!!"